All in all it was a success, Canada's 155th 🎂. Even though the crazies arrived in Ottawa, again. It was different this time. This time the authorities were prepared, had new bylaws, and extra cops who were actually going to charge people. The barriers placed in winter are still there, the road in front of Parliament is closed, and they are checking people for weapons where the main ceremony took place. There were no truckers, and fewer people.
June 29
Since 8 a.m., Officers have issued 120 parking tickets and towed 28 vehicles located in the Motor Vehicle Control Zone in place for Canada Day events (see map above) and demonstrations this weekend.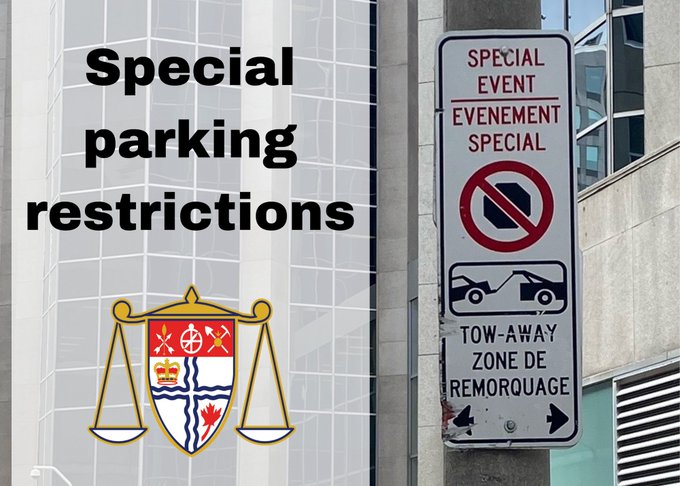 June 30
Things heated up on Thursday, as this dude, James Topp, arrived from Bells Corners. Josephine took photos of it all, they were headed to the orthodontist. They took up parking spots outside the grocery store, pissing off all trying to stock up for the long weekend.
The man, Topp, was demoted from Warrant Officer to Private and dishonourably discharged. He kept appearing at protests in uniform, which isn't allowed, no matter the protest. We're not sure his 'purpose!' On his way back to where ever, he popped in to visit our
former MPP's house for a picnic
, since Hillier's bail conditions require him to stay away from Ottawa.
The dude in the purple shirt (below) is Maxime Bernier, another former MP wackadoodle. He lost his seat in 2019 and formed his own party. That hasn't gone well!
Then there is Pierre Poilievre...
There was increased craziness. It reads much like the Jan. 6 attempted coup. Do they not know how crazy they sound? They were made to take down their tables. The reason is it impedes the sidewalks. A duly elected leader. It's sedition.
"We are reviewing video and investigating the incident at the National War Memorial this evening. The initial investigation finds that an interaction with officers became confrontational and 1 officer was choked. Other officers immediately responded, 4 people were arrested"
There were a lot of people
marching in peaceful protest
<= Caryma Sa'd's cameraman filmed it. Lord knows what they want. They certainly aren't Christian-sounding!
July 1
There was a noisy but peaceful march down Bank St., with residents yelling at them from their windows! Residents have had enough.
The whackos planned to meet at the Supreme Court. Someone had words with them (see the by-law rules above!), that was changed to Strathcona Park. That was cancelled as they couldn't get permits to set up.
The main camp at the
KOA in Renfrew
was a hoot. This is where those advocating for 'freedumb' were camping out in expensive trailers and campers. Those who visited them said they looked bored!
What is really weird is that
at this camp they played the US anthem
and raised the US flag (see below). This is CANADA!
The Barrie thong man was there
, we first spotted him in February. What's up with that?! At least it is warmer.
I enjoyed Twitter posts by
those who were happy
the police were equipped and prepared to do their job.
@GurdeepPandher
, who does bangra from his home in the Yukon. He performed several times on the big stage.
"It's also a promise — a promise of opportunity, a promise of safety for those fleeing violence and war, and a promise of a better life."
Our Governor General, Mary Simon, spoke in THREE languages, English, French and Inuktitut. Simon's working on her French, but some Quebecers are ticked off. Seriously. She is the first Indigenous GG. Raised in a traditional Inuit lifestyle, Simon reminds us that we still have more Reconciliation to do. It is true.
From Ottawa Police:
Enforcement action since 8 AM June 29 in regard to downtown Canada Day events and demonstrations
483 parking tickets
113 vehicles towed
6 tickets encumbering highway
1 ticket pile material on highway
3 tickets unlicensed mobile refreshment
3 tickets unauthorized use of fireworks
All in all, it was an excellent day on Parliament Hill. I put up my flags. The second one is made up of international flags, and says 'peace'.

Happy July 4th to my American friends!