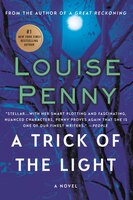 Louise Penny is a prolific
Canadian author. I cannot remember where I saw the name. Hubby printed up a list, and has been reserving them at the library for me. He is an excellent Personal Assistant!
I just finished
A Trick of the Light (2011)
, and I am on to the next. You MUST read them in order, which I've been doing. Our hero, Chief Inspector Gamache, as well sa the other characters, are carefully fleshed out. She has a grasp of human nature, psychology, art, and character. She researches and then paints her settings most beautifully, whether it is the imaginary town of Three Pines, or an old Québec City library. Penny throws in some French, and I find this interesting, it gives such flavour to the books. While we're on the topic, she regularly makes my mouth water, as she describes the gourmet offerings in the Three Pines bistro.
This is a lovely idea,
Gamacheseries.com
, a virtual bistro, Louise Penny calls it, where people can see the cultural inspirations for the town, and look at the art, literature, poetry, music, and philosophy behind the themes.
From her website...
"
Have you ever heard of the term "chiaroscuro
"? Michael told me about it after his art class yesterday. It means the play of light and dark. Am thinking of making that a theme in the book I'm about to start - hmmm."
Louise Penny is a Canadian author of mystery novels set in the Canadian province of Quebec centred on the work of francophone Chief Inspector Armand Gamache of the Sûreté du Québec. Penny's first career was as a radio broadcaster for the Canadian Broadcasting Corporation.
Click icon for more
book review blogs
@Barrie Summy