This precious pair of chickadees were busy digging out a nest. I first
posted a video
of them working at the top.
They abandoned the top of the dead tree trunk, and then moved down to a crook in the tree. A lot lower, and more accessible to our whiskered critters, and I was worried!
I caught a photo of one of them with sawdust in its mouth. One would climb out, and let it fly off in the wind. The other was careful and flew to another branch to ensure the wind took it far away. Hard to tell which was the male and which the female!
Oliver was quite keen on the whole affair. Here is is on the rock from which I took the photo. His tail is about a foot from the the tree trunk!
The nest had a lovely view of the lake! They didn't seem to mind me taking photos. I could creep quite close.
I put a stick in the empty nest, and measured how deep they had gone. It was about 8" at the end. They dug about a 1/2" per day.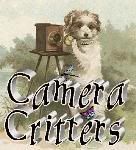 They have now abandoned this site totally, and while I looked forward to seeing the babies, I don't know if I scared them off, but I am glad they *did* take off.
Visit more
Camera Critters (#106)
here.